This post is intended for an audience of adults age 18 and older.
This shop has been compensated by Collective Bias, Inc. and its advertiser. All opinions are mine alone. #CueTheNewYear #CueVapor #SatisfactionAtLast #CollectiveBias
Did you make a New Years resolution this year? I kind of did, but kind of didn't. After making it through the last 4 months of 2017 by sheer grit, I decided I needed some sort of change. I decided I was going to take full control of my anxiety. At least as much as I can. I have a little running list in my bullet journal of things that cause my tremor to worsen, and I avoid at all costs. One of those things is clutter and being unorganized. For some reason it overwhelms me to see tons of stuff piled up when it has a home. My kids don't understand. Jake doesn't understand. So this year, I am making a point to decrease the amount of clutter around me. One of the most cluttered and disorganized places is my purse. Guys, there is probably a family of some species living inside my purse that I don't know about. If anything is lost, that is the first place I look because it's become a bit of a catch-all.
I'm also a bit of a cheap person and so on my organization quest, I make what I need or I re-purpose things into what I need them to be. This brings us to this cute little DIY Carrying Case. I'm using it to keep my Cue™ Vapor System safe in my purse. Like I said, that bag is a huge mess so having the carrying case helps me find my vape faster and keeps it snug as a bug and free from any sort of melted chocolate at the bottom of the bag.
If you are like me and want a way to compartmentalize your stuff, check out the tutorial below!
What you'll need:
Caution: This is NOT a no-sew tutorial. That said, you could use fabric glue in place of sewing if that just isn't your thing. You will see sewing is not really MY thing, and neither is cutting in a straight line. But the end result is adorable. You can do this!
Some kind of fabric. I stole the bottom of one of my curtains. I love the print.

Scissors

Thread and a needle

or

Fabric glue

Pins

A medium sized button

A thin hair tie. If you can't find one- check your purse! If there's not one there, steal one from your daughters head. This is important.

Patience, focus and a kid free space. This is imperative.
So first, grab what you're putting in your carrying case and measure it against the fabric. You need your pouch to be big enough. I made the case for my vape, so it was smallish in size.
After you've measured, cut your fabric. This is extra fun if you have a hand tremor and your scissors are sticky from whatever craft your kid did last. See my beautiful uneven cuts? That takes skills.
Now, turn your case inside out. This is because you don't want the ugly parts of your stitching to show. Pin the sides like I did in the picture below. This keeps the fabric together for you so while you sew, you can focus on attempting good stitches.
After you've sewn that, turn it back right side out and you will see the beginnings of a really cute little carrying case. It's time to sew your button on. I stole mine from a pair of Piper's baby Gap jeans. Do what you have to do, momma!
After your button is on, it's time for the tricky part. You're going to sew down the hair tie on to the inside of the back part of your case. You can see in the picture how mine is attached. Again, flip your case inside out and sew that on.
Once that's on, you are done! My Cue Vape fits perfectly in this carrying case and what's even better is that it helps me with one of my other goals for 2018. I was excited to try the Cue™ Vapor System for a couple of reasons, but mostly I wanted to see if their cartridges would work for me!
Hint: Hover over the following image for options to shop the entire Cue™ Vapor System line of products! My favorite cartridge is the Strawberry Bliss limited edition flavor! It smells and tastes absolutely amazing. You can also sign up for their subscription program and save 15% on cartridges!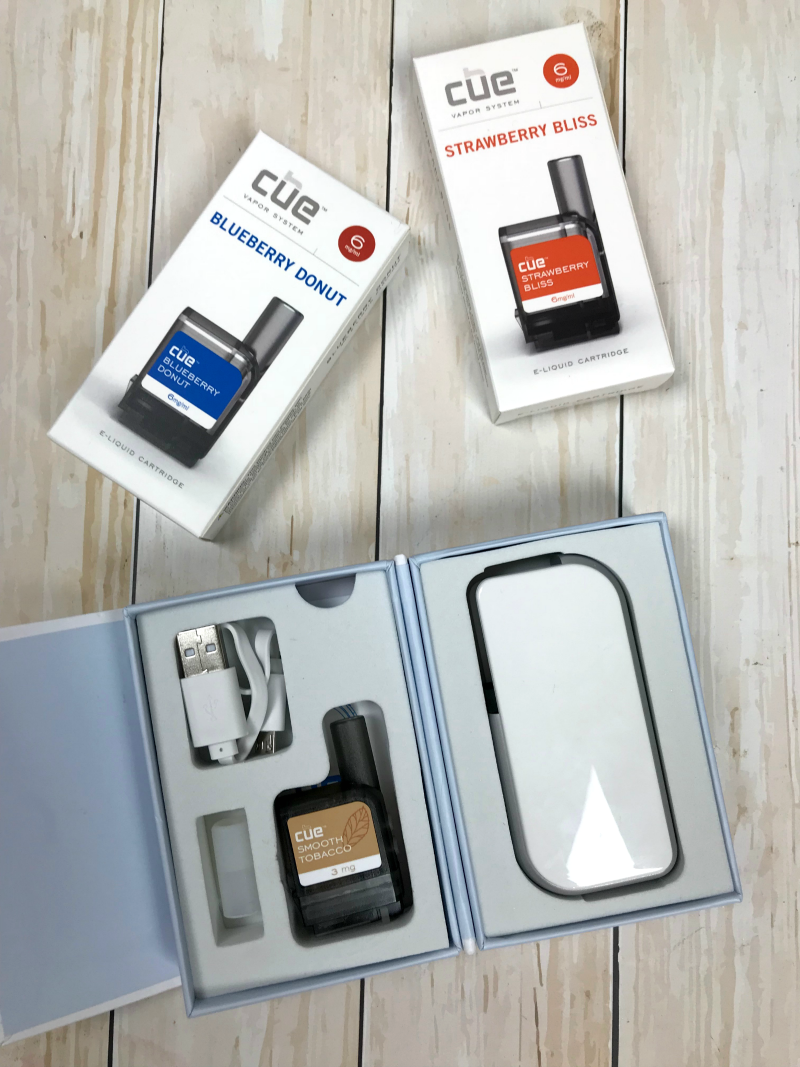 Spoiler alert it's smooth and it tastes good. It is making it so much easier for me to crush my goals in 2018. I needed a win and I am so glad I tried it. It's small, so it literally will fit in your pocket, or your fun carrying case. It's simple to use, unlike others where you have to pour the e-liquid in yourself, these are pre-made cartridges that snap right in and you're on your way. These have been working like a charm for me.
You can get your Cue™ Vapor System on their website. Switching is a wonderful idea and it won't break the bank either! Cue makes it easy because their vape oils taste great and leave no bad smell on you or your clothes. Your mouth will thank you!
Tell me below: Do you use a vape? Have you tried Cue?
NOT FOR SALE TO MINORS. California Proposition Warning statement: "WARNING: This product can expose you to chemicals including nicotine, which is known to the State of California to cause birth defects or other reproductive harm. For more information, go to www.P65.com. WARNING: This product contains nicotine. Nicotine is an addictive chemical. Cue™ the Cue Logo and Vaping. Made Simple.™ are trademarks of Digirettes, Inc.